Religious Life
As a Catholic school, Gunnersbury places a particular emphasis on Religious Life and our Senior Leadership and Chaplaincy Coordinator work with many local parishes and organisations to promote an active and varied Christian life for the school and wider community. Service is an integral part of a Gunnersbury education and the curriculum allows students to participate in a range of community volunteering activities. Providing a wonderful opportunity to learn and understand issues affecting people in local, national and global communities, our Sixth Form volunteering programme, for example, is a way for senior students to use of their God-given talents to help others.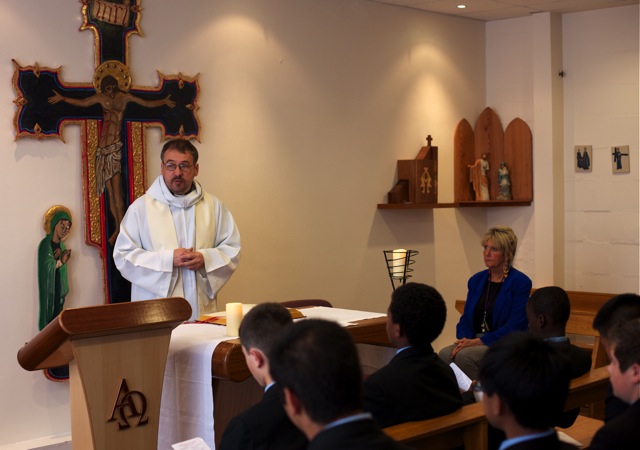 Prayer and Liturgy are central components of life at Gunnersbury and individuals, form groups and the entire school have opportunities to gather together for prayer and to receive the sacraments.
Mass
Holy Mass allows pupils, staff, and the extended school community (parents and families) the opportunity to come together to hear and reflect on the word of God and receive the sacrament of the Eucharist. Mass is offered weekly at lunchtime in the school chapel and each Year Group attends termly Mass at our local parish church, Our Lady and St John's. In addition, we welcome all new Year 7 pupils and families to a special Mass of Welcome in the autumn term and Sixth Formers and their parents celebrate Leavers' Mass prior to the summer examination period. We are fortunate to have staff, as well as senior students, who are trained as Eucharistic Ministers and who assist at school Masses.
Morning Prayer
Each tutor group begins the day with morning prayers. We pray for the school community, and ask God's help in meeting the needs of the wider Gunnersbury community and the world at large. During Advent and Lent special prayers and reflections are used by pupils.
Reconciliation
We strive to give all of pupils a true appreciation of the Sacrament of Reconciliation and, with the support of the many parish priests who say Holy Mass for us each Friday, this is made available. In addition, at key times in the school calendar, there are special reconciliation services for year groups.
We are fortunate to have a beautiful Chapel at the heart of the school which is open for all members of the school community. Staff and students are welcome to take time to reflect and pray in this sacred space.