Computer Science
ICT is located in one primary centre with 3 teaching rooms, each with 30 networked stations. Additionally many other classrooms have extra computers for small groups of pupils to use and our Science and Maths departments have their own dedicated computer suites. In addition, many departments have access to sets of wireless laptops. Our Sixth Form Centre houses 2 suites of networked stations.
Computing is taught across the curriculum from Year 7 to Year 13 and explicitly in Key Stage 3, where all pupils have timetabled lessons and follow the national curriculum, which develops skills and competence gained at primary school.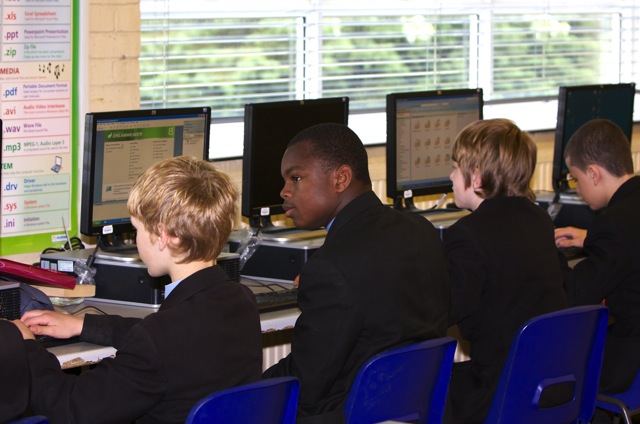 GCSE Computer Science gives pupils an in-depth understanding of how computer technology works and a look at what goes on 'behind the scenes'. As part of this, learners investigate computer programming, a career that many young people aspire to. It is a fact that information technologies continue to have a growing importance in our daily lives and, most importantly, in our choice of higher study or employment. This means that there will continue to be a demand for professionals who are qualified in computing science. The course allows successful learners to progress onto a range of university degree courses, often combining the study of computing with another subject, such as maths or engineering.
By the end of the course, pupils will be able to create their own functioning computer programmes, practise finding and fixing bugs (or "glitches") in a programme, understand computer hardware by taking a computer apart then rebuilding it and much, much more.
The GCSE Computing Science specification gives pupils the opportunity to explore the inner workings of computer systems through the investigation of hardware and software systems. Pupils will be expected to learn to program and be able to independently complete a substantial programming project.
Curriculum Journeys: