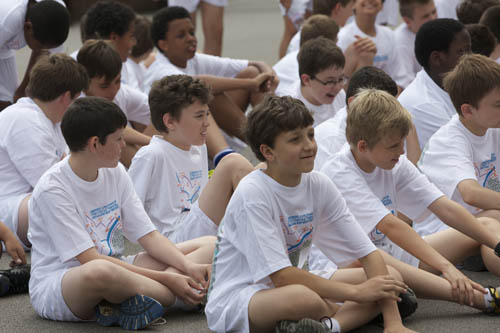 'Faith is a living reality that must be constantly discovered and deepened so that it might grow,' (Pope Benedict XVI)
At Gunnersbury, community is about people not structures, programmes, responsibilities or duties. The Religious Education department and Chaplaincy team co-ordinate the school's service to the community - local, national and international - which includes a wide range of charity fund-raising.
Fundraising and charitable events are a year-long feature of school life. At a time where many of us are feeling the effects of the economic downturn, the continued remarkable generosity of the whole school community has helped many people across the UK and abroad who are not as fortunate as ourselves. In the past years we have supported a variety of charities, including CAFOD, Caritas, Mary's Meals, Cancer Research, and Smile Train to name but a few. We have invited speakers from these charities to come and speak to our boys and show how their fundraising has helped others. Our Chamber Choir and Sixth Formers brought festive cheer to commuters at Northfields Station, singing Christmas carols and raising significant contributions for Shooting Star Chase, a children's hospice, in the process. Our biggest fundraiser, the Sixth Form 12km Charity Walk (in collaboration with Gumley House Convent School and St Marks School) has contributed £25,000 over the last few years, helping to improve the lives of vulnerable and impoverished people in the UK and further afield. Many of the charities the school community donates to rely on our giving to survive; they receive little or no government funding, nor private backing, relying on the generosity of our parents and pupils.
We encourage our pupils to see the wider world, a case in point is when our Year 12 students visit Lourdes as 'red caps' on pilgrimage with Westminster Diocese, and to recognise the impact their efforts can have on others. Although we will never meet most of the people who benefit from our charitable giving, it is heart-warming and reassuring to know that a relatively small amount can make a huge difference to the lives of so many people